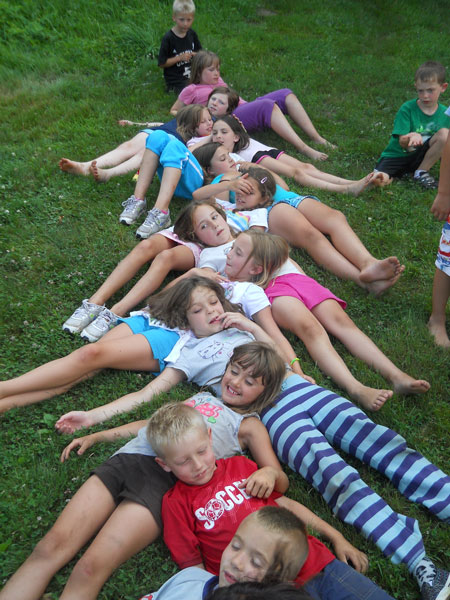 Camp Rising Hawk is nestled on the back forty of Live & Learn Early Learning Center. All of Rising Hawk's facilities are designed to engage youth in the outdoors while being developmentally appropriate. All of the centers are child-driven. Campers even helped build the tree house.
Camp Rising Hawk's facilities include: tree house, low ropes course, miles of wooded trails, sports field, garden with many vegetables, zip line, pool, large tented area with stage, natural building area, outdoor amphitheater, climbing trees, bikes and biking trails, digging exploration area, access to Mast Way school facilities, skateboard swing, mud pit, and hammocks for relaxing.
Throughout the summer we will have four 2-week sessions. Each session will have a different focus, which the field trips and some activities will revolve around. Campers can still choose to sign up for certain days and weeks and are not limited by the themed sessions.
Although weeks are themed, there are plenty of opportunities for campers to participate in other activities. Every day there are chances for campers to choose their activity. These choices include swimming, crafts, field games, team building activities, climbing trees, gardening, cooking, natural building, playing in the tree house, zip lining, and so much more!
For an additional fee campers may choose to participate in swim lessons or horseback riding! Swim lessons are held on Monday and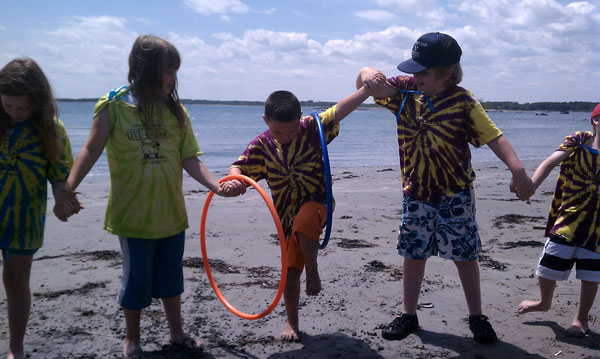 Wednesday mornings, continuing for the entire summer. Advanced swimmers will be transported from Rising Hawk to a local in-ground pool. The horseback riding program will be offered during the first session and continue to be offered the rest of the summer based on interest. Riding will happen on Tuesday, Thursday, and Friday mornings. Campers will be transported from Rising Hawk to local stables in Lee, NH.

Daily Camp Schedule:
Early Risers and Extended Day care are provided at no extra cost. The camp day itself runs 9am-4:30pm. To be able to participate in planned activities, children should arrive by 9am.
During choice activity time, campers choose from activity stations. Activities may include swimming, arts and crafts, field sports, gardening, or building to list a few.
Morning and afternoon activity times are related to the theme of that week's session.
Times are approximate and flexible. Field trips, community activities, and daily changes will undoubtedly occur!


Rising Hawk Summer Camp Schedule

7:30-9:00
Early Risers
9:00-9:30
Morning Gathering & Snack
9:30-10:30
Choice Activities
10:30-11:30
Swim & Free Time
11:30-12:00
Lunch
12:00-1:30
Swim & Free Time
1:30-2:30
Group Activity
2:30-3:00
Afternoon Snack
3:00-4:00
Rising Hawk Activity
4:00-4:30
Afternoon Gathering & Clean-Up
4:30-5:30
Extended Day